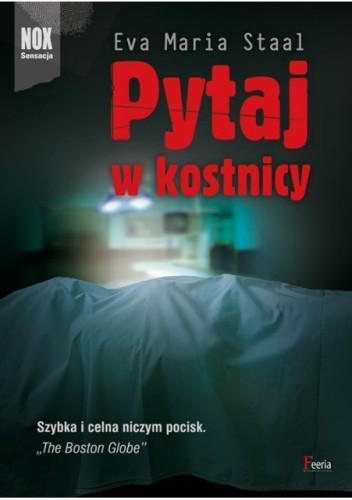 "Pytaj w kostnicy" to bardzo mocna powieść, bazująca na doświadczeniu autorki. Ewa Maria Staal dawniej wmieszana była w międzynarodowy handel bronią, a obecnie wykorzystuje swoje wspomnienia i ogromną wiedzę w tym zakresie pisząc nieszablonowe kryminały i thrillery. Już po paru stronach widać różnicę pomiędzy jej twórczością, a twórczością innych pisarzy. Jej książki są nasycone wieloma unikatowymi szczegółami, z którymi do tej pory nie spotkałam się wcześniej, mimo, że jestem zagorzałą fanką "mocnych" gatunków. Jej znajomość tematu po prostu przebija się przez fabułę, a do tego dochodzi jeszcze fakt, że Staal poniekąd wmieszała w historię swoje przemyślenia, opinie i odczucia.
Główną bohaterką jest kobieta niezwykle silna. To chyba najważniejsza jej cecha i być może najbardziej widoczna. Eva Maria Staal, czyli główna postać książki, od której autorka "pożyczyła" swój pseudonim, żyje w miarę normalnie, ale to tylko pozory i chwilowa cisza przed burzą. Jej przeszłość budzi grozę i przypomina historie z dobrych kryminałów, a tymczasem jest prawdziwa. Niegdyś wplątana w handel bronią, zwiedzała cały świat jednocześnie sprzedając "śmierć" każdemu, kto był w stanie zapłacić odpowiednią cenę. Jej kariera w półświatku nie raz doprowadzała ją do miejsc i osób, które zwykli ludzie widują jedynie w serwisach informacyjnych i w prasie. Jednak nawet ona kiedyś zapragnęła tego co wszyscy, normalnego życia. W pewnym sensie jej się to udaje, ma wspaniałą córkę, męża i piękny dom na porządnym osiedlu. Jednak jak się szybko okazuje, nie można tak po prostu porzucić przestępczą stronę, zwłaszcza znając tyle nazwisk, faktów i tajemnic tak pożądanych przez policję. Wkrótce Maria odczuwa to na własnej skórze i musi zacząć walczyć o odzyskanie spokoju nie tylko dla siebie, ale i dla rodziny.
"Pytaj w kostnicy" to książka, która trzymała w napięciu do samego końca, ale jednocześnie miała w sobie specyficzną atmosferę. W pewnym sensie było to związane z tym, że jest to częściowo historia samej autorki i przez to całość wywierała jeszcze większe nerwy i wzmagała niecierpliwość. Wszystko działo się bardzo szybko, także ze względu na średnią objętość książki. Mimo to fabuła wpasowała się w mój gust i na pewno zapamiętam ją na długo. Inną zaletą są sami bohaterowie. Jak wspomniałam wcześniej jest to w pewnym sensie zbiór doświadczeń autorki, dlatego trudno mi było oceniać główną bohaterkę, bo ciągle czułam jakby Staal opowiadała własną historię chowając się za jej postacią.
Mimo tego, że nie jest to jeden z najlepszych kryminałów/thrillerów jakie czytałam, zapada w pamięć i pozwala odczuć to, na co wszyscy liczą sięgając po ten gatunek- dreszczyk emocji. Zaliczam ją do tytułów, które zapadły mi w pamięć i do których być może kiedyś wrócę. Sam styl pisania autorki, język, sposób wykreowania postaci i poprowadzenia fabuły były bardzo dobre i choćby dlatego warto przeczytać "Pytaj w kostnicy".
Autor: Eva Maria Staal
Wydawnictwo: Feeria
Liczba stron: 264
Ocena: 5/6