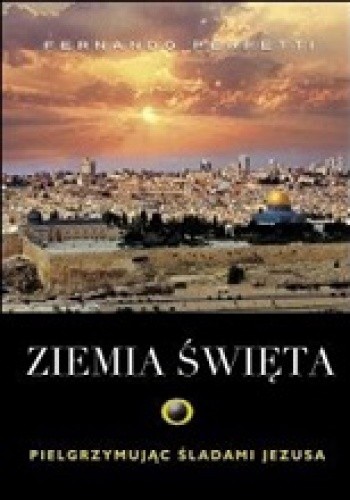 Izrael to tytułowa Ziemia Święta, a zarazem najważniejsze miejsce dla każdej wierzącej osoby, przy czym nie ma znaczenia to, jakiej wiary wyznawcą się jest. Jak mówi opis na okładce jest to Ziemia Obiecana dla Żydów, dla Muzułmanów miejsce, z którego wstąpił do nieba Mahomet, a dla Chrześcijan to symbol Jezusa Chrystusa. To zadziwiające, jak jedno miejsce łączy wszystkie wyznania i ludzi z całego świata, mimo, że przecież na co dzień trwa nieoficjalna rywalizacja i nietolerancja między wyznawcami różnych religii. Izrael sprawia, że te bariery przestają się liczyć.
Autor "Ziemi Świętej" Fernando Perfetti, stworzył niesamowity obraz Izraela w odniesieni do religii Chrześcijańskiej. Oprowadza nas po tej Ziemi jednocześnie zachowując chronologiczny porządek wydarzeń z życia Jezusa. Można więc powiedzieć, że zwiedzamy i poznajemy kolejne miejsca w identyczny sposób, jak robił to Jezus. Jest to na swój sposób pielgrzymka bez wychodzenia z domu. Chociaż oczywiście nie da się takiej "papierowej podróży" porównać do rzeczywistej wycieczki i spoglądania na wszystko "na żywo", to jednak książka jest wspaniałą namiastką Izraela tym bardziej, że na okładce jest specjalne okienko z prawdziwą szczyptą Ziemi Świętej.
Zdecydowanie można nazwać tą książkę albumem. Wydanie jest naprawdę piękne, w twardej oprawie i z treścią napisaną ozdobną czcionką, a w dodatku z zaakcentowanymi ważniejszymi fragmentami. do tego mnóstwo zdjęć dosłownie każdej opisanej budowli czy miejsca, a do tego każdy rozdział ma przytoczony odpowiadający mu fragment z biblii. dzięki temu nie tylko dowiadujemy się masy ciekawostek i informacji o konkretnych miejscach, ale i możemy je zobaczyć, a nawet poznać okoliczności w jakich odwiedził je sam Jezus, a jest ich ponad 50! Najbardziej zadziwiła mnie mapa dołączona na końcu książki z XV wieku, która w ogóle nie przypomina naszej dzisiejszej.
Chociaż jak wielokrotnie wspominałam przy okazji książek o tematyce religijnej, ja nie jestem zbytnio wierząca, to jednak dzięki temu patrze na takie tytuły bardziej obiektywnie poz względem wydania i treści, a "Ziemia Święta" jest jedną z najpiękniej i najrzetelniej wydanych albumów jakie miałam okazję czytać, dlatego moim zdaniem, dla osób wierzących będzie to naprawdę wspaniały okaz do domowej biblioteczki.
Autor: Fernando Perfetti
Wydawnictwo: m
Liczba stron: 200
Ocena: 5/6