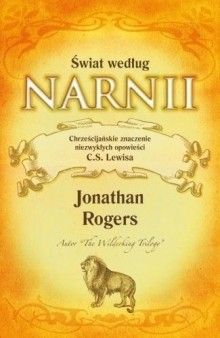 Chyba każdy kojarzy znaną serię książek i filmów "Opowieści z Narnii". To historia rodzeństwa, które przeżywa mnóstwo wspaniałych i niesamowitych przygód w zaczarowanym świecie Narnii. Poznają tam wiele niewiarygodnych stworzeń, o jakich czytamy w baśniach i bajkach, a także uczą się wielu wartości życiowych. Właśnie to jest głównym tematem przewodnim książek Lewisa. Każdy kto interesuje się serią wie, że jest ona poniekąd skierowana do osób wierzących poprzez liczne aluzje i odniesienia do Biblii.
Jonathan Rogers postanowił wziąć pod lupę ten znany na całym świecie tytuł i przestudiować go pod kątem religii. Właśnie tak powstała książka ukazującą prawdziwe, chrześcijańskie znaczenie Narnii. Okazuje się, że ukazane w niej postaci, miejsca, a nawet wiele dialogów, miały całkowicie inne, głębsze znaczenie, często niedostrzegane przez widzów i czytelników. Sam Aslan-jedna z najważniejszych postaci, jest pewnego rodzaju uosobieniem samej postaci Boga. Takich małych detali jest w powieści znacznie więcej. Wszystkie zdaniem Rogersa i wielu czytelników, wyraźnie chylą się ku chrześcijanom.
Chociaż ja sama podchodzę do takiego oceniania nieco krytycznie i wolę nie doszukiwać się tego typu rzeczy w książkach, to jednak w przypadku Narnii, ta religijność zawarta w serii jest dosyć oczywista i wiarygodna. Jonathan Rogers rzetelnie przytacza fakty, podkreśla ważne fragmenty i ukazuje istotne fakty, które pomijamy czytając Narnię. Myślę, że to wspaniała okazja dla wszystkich wielbicieli tej serii, by zapoznać się z tym, co fani lubią najbardziej, czyli ciekawostkami i informacjami o książkach. Na pewno jest to pozycja obowiązkowa w domowej biblioteczce każdego fana Narnii.
Autor: Jonathan Rogers
Wydawnictwo: Święty Wojciech
Liczba stron: 231
Ocena: 4/6