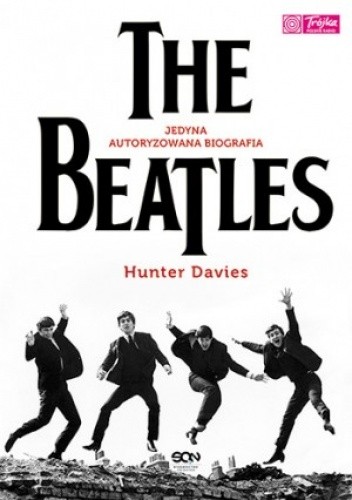 O samych Beatles'ach można by mówić godzinami, a i tak nie opowiedziałoby się wszystkich anegdot, wspaniałych występów i utworów, którymi nas zachwycali w telewizji. Nieważne w jakim wieku jest się obecnie, jest to zespół docierający do każdego za pomocą internetu, prasy, telewizji czy literatury. Dziś nawet młodzież zna tą niesamowitą grupę, a nawet potrafi zaśpiewać refreny ich najpopularniejszych piosenek. Ich popularność wcale nie spada, a zainteresowanie nimi jest nadal bardzo wysokie. Jeśli więc tak zachwycają nas ich "znane" twarze, można się domyślić jak ciekawe jest ich życie zakulisowe.
Biografia, którą dzisiaj przedstawiam jest jedyną autoryzowaną, która powstała w czasach największej popularności grupy w roku 1968. To czas, kiedy The Beatles stali się ikonami popkultury, idolami słuchaczy na całym świecie. Był to ich najlepszy rok, który rozpoczął serię kolejnych, równie udanych. Można właściwie powiedzieć, że ten złoty czas trwa do dziś. Autorem jest Hunter Davies, człowiek o niebywałej cierpliwości i wytrwałości. Pisząc biografię spędził aż osiemnaście miesięcy żyjąc z zespołem, będąc z nimi na koncertach, nagraniach i w trasach. Wspólnie z członkami zespołu jadł, komponował, odpoczywał, udzielał się w ich kręgach towarzyskich i przebywał w ich domach. Wszystko po to, by jak najgłębiej dotrzeć do ich serc i umysłów i przedstawić fanom ich prawdziwe oblicza. Zdecydowanie mu się to udało. To co najciekawsze w książce to punkt widzenia znajomych i bliskich Beatles'ów. Davies poświęcił czas ich rodzinom, ukochanym i przyjaciołom, docierając do łączących ich więzi, relacji codziennych. Powstało z tego ponad 500 stron niesamowitego obrazu tego legendarnego zespołu. Do tego wszystkiego dodał także masę zdjęć, unikatowych i niespotykanych nigdzie indziej, co tylko dodało prestiżu tej już i tak wspaniałej publikacji. Co ciekawsze, wiele dzisiejszych pisarzy wzoruje się na tym tytule, tworząc własne dzieła.
Na tę książkę trzeba poświęcić sporo czasu. Ilość faktów, materiałów wręcz przytłacza i nie da się ot tak przewertować stron. Trzeba mieć specjalnie zarezerwowany czas i skupić się na treści. Już sam wstęp autora zawiera około 70 stron. Sama biografia podzielona jest natomiast na części i jeszcze podrozdziały. To naprawdę wielkie kompendium wiedzy dla fanów. Nic nie zostało tu ukryte. Zarówno afery i ekscentryczne wydarzenia z życia członków grupy, ich przygody z narkotykami i alkoholem, bójki i awantury, wszystko to autor wywlekł na światło dzienne, jednocześnie zachowując szacunek dla swych idoli. Po raz pierwszy Beatles'i nie mają nic do ukrycia. Dlatego też nie wyobrażam sobie, aby będąc pod wrażeniem formacji, nie zapoznać się z tym tytułem.
Autor: Hunter Davies
Wydawnictwo: SQN
Liczba stron: 576
Ocena: 6/6